Posted By: The_Madness
84 SS For Sale in MS -

03/19/15

02:19 AM
Up for sale is a 1984 Chevrolet Monte Carlo SS with 108xxx miles on it. The majority of the work on the car described below, including the engine, transmission, and front suspension, occurred at 106,551 miles.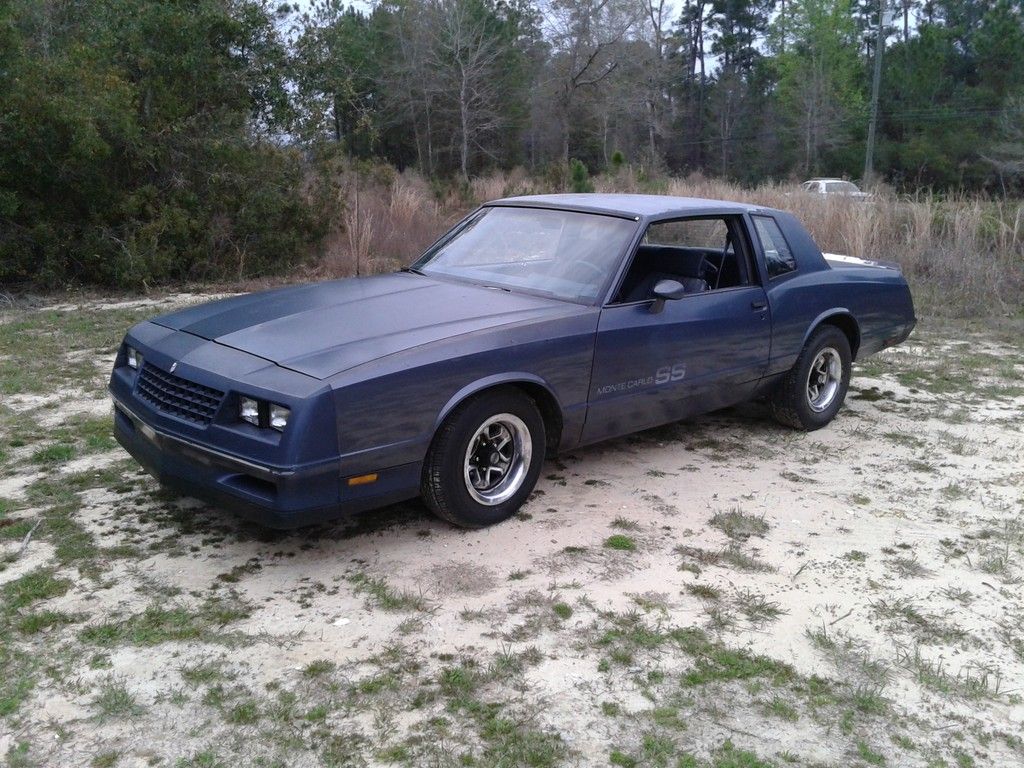 I've owned it for the past 10 years and in that time it has been an ongoing project that has spent less than 7 days total sitting outside. It has been garage-kept since I purchased it. My intention for it was to build a street/strip car, but it has not been to the drag strip even once.
Unfortunately, I just don't have the time for it anymore and need to focus on some other priorities and would rather sell the car to someone who will enjoy it rather than have it sit in storage for the next several years. I've put countless hours into this car along with far more money than what I am asking for it.
Engine (main highlights):
-305 ci professionally rebuilt on a pre-1977 "heavyweight" 305 block (less prone to cracking)
-Stock crank (reground w/ oversize bearings), rods and flat-top pistons – 10:1 CR w/ resurfaced heads
-Fully competition-ported 605 heads with 1.94" intake and 1.60" exhaust valves, 5 angle valve job
-Crane circle-track cam with 282 deg. adv. duration & .470" lift int./exh., w/ double roller timing chain
-Melling High-Volume Oil Pump
-Edelbrock Performer intake manifold
-Holley 3310 750 cfm 4 barrel upgraded w/ secondary metering block & Power Valve protector
-Holley Powershot Air Cleaner (cotton gauze similar to K&N)
-CFR Performance HEI distributor (just installed recently)
-Summit 100 amp chrome 1-wire alternator
-Milodon High-Flow 180 degree thermostat
-Be Cool Aluminum Radiator (750 HP rated)
-Goodyear Hi-Miler Electric Blue hose set
-Ford Taurus Electric Fan w/ Derale high-amp fan controller wired to low-speed circuit
-Powermaster Mini Starter
-Flowtech Afterburner Headers
-Pypes Performance stainless header-back system w/ X-pipe & Violator Mufflers, side exit behind tires.
Engine produces roughly 375 HP according to dyno estimation software. It has been run exclusively with Brad Penn high-zinc racing oil since built and is tuned to run on 93 octane fuel.
Transmission is a TH350 (non-lockup) professionally rebuilt with a shift kit and Transmission Specialties 2500 RPM stall converter. TCI aluminum transmission cooler mounted in front of radiator. UMI Performance driveshaft loop also installed.
Front Suspension & Steering:
-Front suspension components sandblasted & powdercoated semi-gloss black
-Energy Suspension bushings on control arms and sway bar, Moog UCA cross shafts installed
-All steering linkages/tie rod ends/ball joints replaced with Moog components
-Remanufactured quick ratio steering box
-Jeep steering shaft upgrade (replaces rag joint w/ U-joints)
-Moog 5658 (568 lb/in rate) springs w/ ½ coil cut out; lowers car 1.5" in front
-Edelbrock Performer IAS shocks
-Falken Ziex 512 215/65R15 tires (just mounted & balanced last October)
Interior:
-Mostly stock/original
-Auto Gage 5" tachometer w/ shift light
-B&M Megashifter ratchet shifter
-Radio delete – Wideband O2 and Vacuum gauges reside there now
-Fire extinguisher mounted behind driver's seat
-Battery relocated to spare tire well w/ cutoff switch (comes w/ removable shut off rod for IHRA/NHRA legality)
-IHRA/NHRA-legal .032" aluminum trunk firewall
-Non-AC heater box from 1981 El Camino – temporary ducting in place but will come with the non-AC ducting, controls, and glovebox from the Elky.
-Kirban Performance trunk braces
The interior is in decent original condition with a couple exceptions. There are 2 cracks in the dashboard on the passenger side and the package shelf has deteriorated since GM used the cheapest material possible for it. The "breadbox" that attaches to the front of the console became brittle and broke when removing it from the car. I have it and most of the other interior pieces which were removed from the car for one reason or another.
The body has not been touched since I bought the car. What you see is how it has been for over 10 years since I wanted to finish all of the mechanical work before tackling body work. This car does have a couple common G-body rust areas (which I've seen on cars everywhere except in the desert states). Both doors are rusted out at the bottoms, however, I have a driver's side door from an '84 Monte and the passenger side from an '83, both set up for manual windows. Both doors have mirrors, glass, regulators, etc. with them. There is also a patch of rust above the driver's side quarter window which will need to be cut out and replaced. Also included is a new set of Soff Seal door seals and window felt.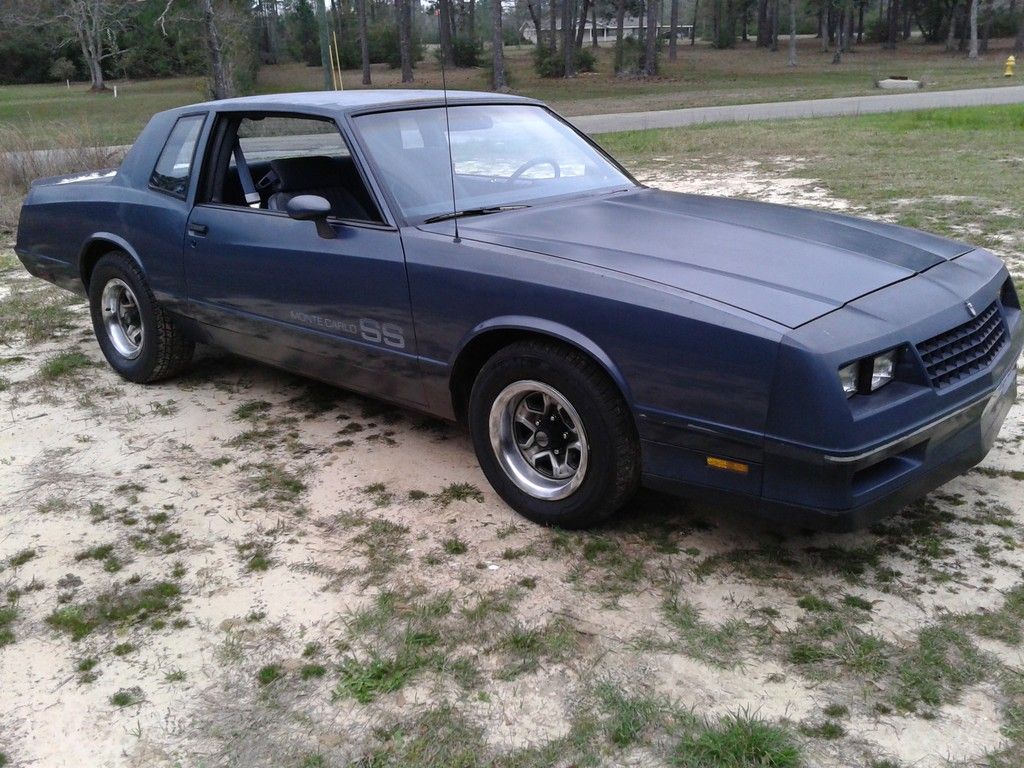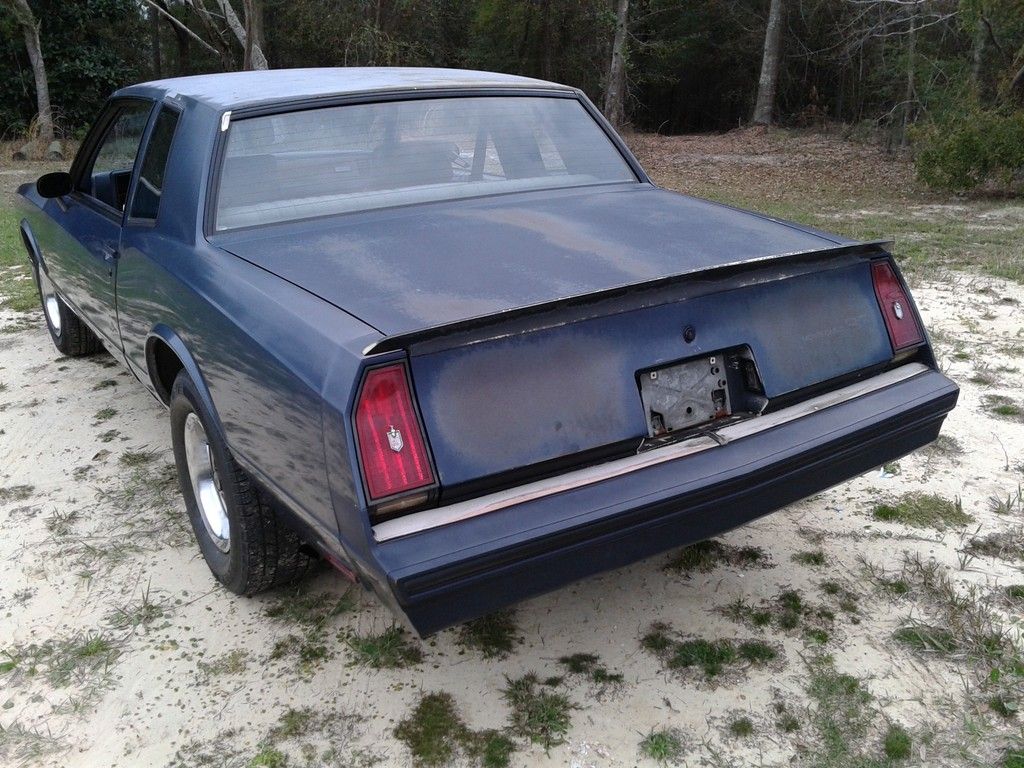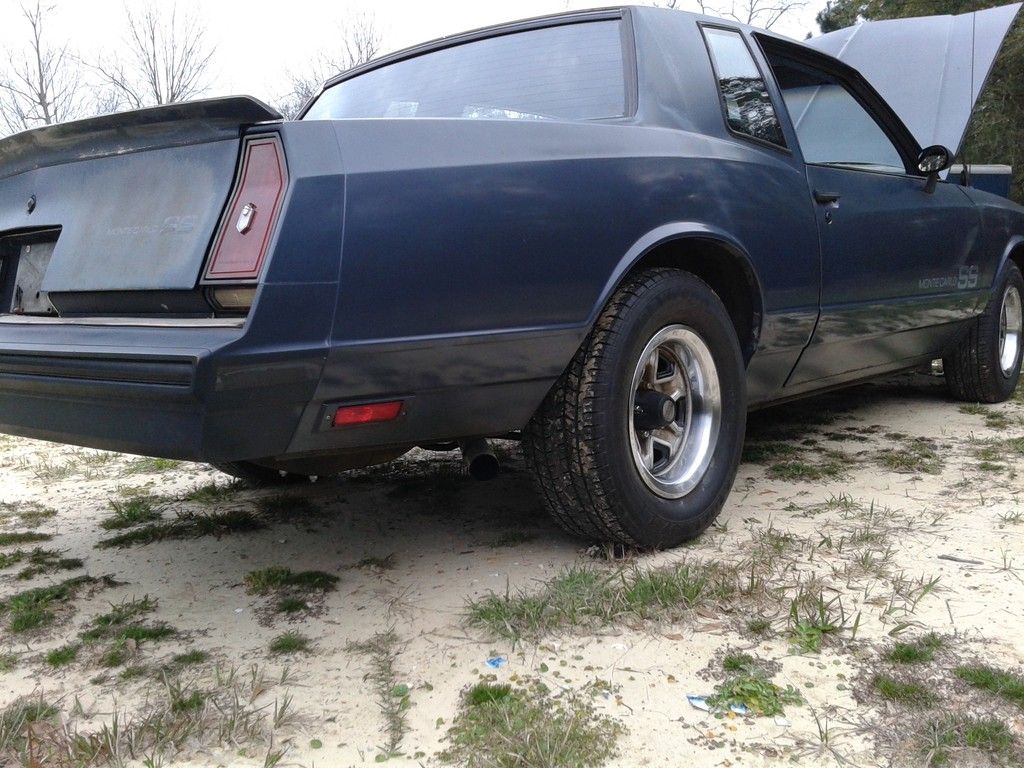 The car was sprayed with a heavy-duty undercoat at some point when it was new or nearly new, so the underside of the car is fairly well preserved.
All lights work, no cracked glass, etc. so it is 100% street legal. I try to drive the car at least once a week just to keep it in operational condition.
I can deliver the car up to 300 miles away from the Gulfport/Biloxi area in an enclosed trailer for $0.50 per loaded mile. However, I will not sell this car to anyone sight unseen since I feel you need to look at ANY car first to make sure that you definitely want to buy it!
I also have several additional parts for the car which could be worked into a package deal. The parts include a Ford 9 inch rear end (4.10 gears, posi), Edelbrock trailing arms, adjustable rear shocks, Weld Draglites (15x7 front, 15x8 rear), Nitto 555R drag radials (275/60R15), and a few other miscellaneous things. If someone purchases the car and is not interested in any of these parts, then they will be for sale separately.
I'm not interested in any Paypal scams, etc.
Asking price is $5300 or best offer. Sold as-is.
As usual, cash talks, B.S. walks.
May be interested in a partial trade for any of the vehicles on the list below up to an agreed value of $2500. Must be running and driving or only need minor work to get back on the road. I don't have time for major rust repair, engine swaps, etc. IF IT'S NOT ON THE LIST BELOW, I AM NOT INTERESTED IN IT.
Possible Partial Trades (only interested if they have a manual transmission):
• AMC Gremlin, all years
• Chevy Vega/Monza & B-O-P equivalents, 2.0/2.3/2.5L, all years
• Chevy S-10/GMC S-15, 2.5L, 2WD, Regular Cab, Short Bed, 1985-93
• Chevy S-10/GMC S-15, factory 2.2L diesel, 1984-85
• Datsun 510, all years
• Dodge Rampage/Plymouth Scamp, 1982-84
• Ford Festiva, all years
• Ford Mustang II, 2.3L, 1974-78
• Ford Mustang/Mercury Capri, 2.3L, coupe/hatchback, 1979-93
• Ford Pinto/Mercury Bobcat, 2.0/2.3L, all years
• Ford Ranger, 2.3L, 2WD, Regular Cab, Short Bed, 1983-1992
• Ford Ranger w/ factory Turbo Diesel, Regular Cab, Short Bed, 1985-87
• Isuzu P'up/Chevy LUV, factory 2.0/2.2L diesel, all years
• Mazda 323 GT/GTX, 1985-89
• Mazda Miata, 1989-97
• Mercedes 300-series Turbo Diesels, 1981-85
• Opel Ascona/Manta, 1971-75
• Subaru GL/DL/Leone AWD, 1979-94
• Subaru Impreza AWD, 1993-99
• Subaru Legacy AWD, 1989-93
• Suzuki Samurai, all years
• VW Beetle, 1974 and Earlier (including Baja Bugs)
• VW Diesels, all years/models (except for '98+ Beetles)
• VW Golf/GTI, 1983-92
• VW Jetta/Fox, 1979-91
• VW Rabbit/Caddy/GTI, 1974-83
Thanks for looking!